Website Design, Aberdeen
Aberdeen Internet have designed a large number of websites for a diverse selection of clients throughout the UK, including some of the top firms in the Aberdeen area. These sites include:

Static "brochure-type" websites in a variety of different styles and sizes, allowing businesses to effectively promote their services/products.

Responsive design to ensure that websites are mobile friendly and automatically resize/reflow to suit all end user devices, eg desktop computers, tablets, laptops and mobile phones. All new sites are designed to be responsive.

Interactive sites with e-commerce facilities, incorporating shopping basket facilities, product search, check-out stages and secure credit card ordering.

Websites with integrated back-end databases, allowing comprehensive searches by users and with integrated password protected administration section allowing clients to update the database directly via the web.

Websites using animation and rich media, streaming video and audio.

Directory/general information type websites allowing users to search for information/ advertisers under different categories.

View some of Aberdeen Internet's websites in our Portfolio section.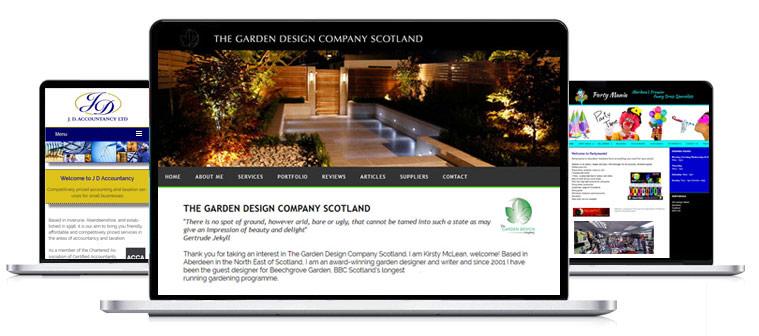 Hosting
If we design your website for you, our fast and reliable hosting services are included in the cost. In order to run an efficient and effective website it is vital that it is hosted on a robust and reliable web server which can deal with a large number of simultaneous visitors. We host all of our sites at a highly secure modern data centre, with multiple connections to the Internet from high quality backbone providers. This centre provides the most secure environment for your website. Our servers are monitored 24 hours a day, 365 days a year.

We also regularly monitor and maintain our clients' sites to ensure they continue to function correctly with all variations of web browsers and related programmes as and when software upgrades occur.